Click here for printer-friendly version.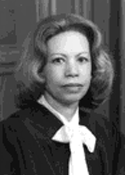 Hon. Arleigh Maddox Woods (Ret.)
Justice Woods served as Administrative Presiding Justice, Court of Appeal, Second Appellate District (1984-87); Presiding Judge, Div. 4 (1982-96); Assoc. Justice (1980-1982). She served as Judge, Los Angeles Superior Court (1976-1980); Supervising Judge, North Central District (1978-80); Direct Calendaring Pilot for Fast Track, Civil Trials, Law and Motion and Settlements.
In private practice, Justice Woods was a Partner at Levy, Koszdin & Woods, where she maintained a civil law practice, with emphasis on construction defects, medical issues and employment and labor law.
EXPERIENCE AND SPECIALTIES
Justice Woods is extremely active as an arbitrator and mediator, specializing in personal injury, construction defects, medical malpractice, insurance disputes, discrimination, wrongful termination, employment law and labor disputes.
SPECIAL HONORS AND MEMBERSHIP
Member, California Judges Association; Chair, Commission on Judicial Performance (1988-93); Member, California Judicial Council; Member, Superior Court Ethics Committee; Appellate Justice of the Year, Los Angeles Trial Lawyers Assn. (1989) and California Trial Lawyers Assn. (1983); Langston Bar Assn. Hall of Fame (1992)
EDUCATION
L.L.M.. University of Virginia, 1984
L.L.B., Southwestern University of Law, 1953
B.S., Chapman College, Los Angeles, CA 1950.