Click here for printer-friendly version.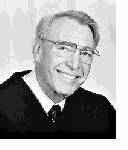 HON. JOHN J. WILSON (Ret.)
Judge Wilson served as a United States Bankruptcy Judge in the Central District of California, 1985-1999; Assistant U.S. Attorney, Central District of California, 1958-1960.
EXPERIENCE AND SPECIALTIES
Judge Wilson has had a long and distinguished career as an attorney and bankruptcy judge in Southern California. After 18 months as an assistant United States Attorney in Los Angeles, he was a litigator and trial lawyer with the firm of Hill Farrer & Burrill from 1960 to 1985. He specialized in civil and business litigation as well as bankruptcy cases, representing secured and unsecured creditors, Chapter 11 debtors, trustees and creditor committees. Judge Wilson arbitrated cases for the American Arbitration Association for over 10 years while in private practice and wrote the Rules for Arbitration of Fee Disputes while chairman of the Los Angeles Bar Association Arbitration Committee. These rules later became the model for the rules adopted by the California State Bar.
Appointed U.S. Bankruptcy Judge in 1985, Judge Wilson presided over many complex business cases, including Financial Corporation of America, at one time the largest Chapter 11 case in history. He gained a reputation as a successful settlement judge; one of two judges whom other bankruptcy judges of the Central District often referred difficult matters. Since retiring in 1999 he has mediated scores of cases with an almost 100% success result. He is known for his relaxed, informal style and his ability to get litigants to focus on issues, even in highly emotional disputes.
EDUCATION
LLB, Stanford Law School, 1954,
AB, Economic, Tufts University, 1951
Basic and Advanced Courses in Mediation, Pepperdine University, 1990-1995.
MEMBERSHIP
Chairperson, Los Angeles County Arbitration Committee, 1974-1977.
SPECIALTIES
Business, Contract, Construction, Bankruptcy, Fraud, Complex civil litigation, attorney malpractice, attorney fee disputes and all litigation arising in bankruptcy cases.