Click here for printer-friendly version.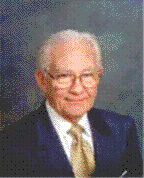 HONORABLE HOWARD J. THELIN (Ret.)
Judge Thelin served 21 1/2 years as a Superior Court Judge. He conducted more than 1,000 settlement conferences, and developed expertise in the area of medical malpractice, professional malpractice, personal injury, contracts, fraud, real property, trademark, copyright, wrongful termination and bad faith. As a practicing attorney, he specialized in business law, probate and domestic relations.
EXPERIENCE AND SPECIALTIES
As a trial judge, he handled many significant cases, including: People v. Harvey Lewis, 19 Cal. App 3d 1019 (1971); D.A. Lipscomb et al. v. Robert E. Krause, 87 Cal. App. 3d 910 (1978); Bowne of Los Angeles v. City of Los Angeles, 153 Cal. App. 3d 26 (1984); Jones v. Ortho Pharmaceutical Corp., et al., 163 Cal. App. 3d 396 (1985); Issacs v. Huntington Memorial Hosp., et al., 38 Cal 3d 112 (1984); National Automobile and Casualty v. Beverly Jill Frankel, 203 Cal. App. 3d 830 (1988); Clemens v. American Warranty Corp., 193 Cal. App. 3d 444 (1987); Bassett Unified School District v. Commission on Professional Competence, 201 Cal. App. 3d 1452 (1988); and Coates v. Redondo Beach Urban Redevelopment Agency (1988).
As a private judge, he presided over many significant cases and acted as a discovery referee in Christian v. Estate of Rock Hudson and in the Eatoncrest subsidence cases. He presided over the trials for Jennings v. So. California Transit District and Grubb & Ellis v. Bonaguidi, et. al.
SPECIAL HONORS AND MEMBERSHIPS
"Freedom Foundation Award" for essay on "Americanism" and "Rominger Award" by the American Legion Press Association, for best editorial in any American Legion publication;

Past Commander, Post 127, The American Legion;

"Service to Mankind Award" from North Los Angeles District of Sertoma for leadership in politics and community betterment.

Member; Executive Committee, Lawyers' Club of Los Angeles County.

Executive Committee and Secretary-Treasurer, California Judges Association.
EDUCATION
LL.B., University of Southern California of Law, 1949
B.A., History, University of California at Los Angeles, 1946