Click here for printer-friendly version.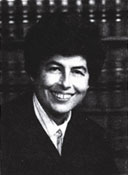 Judge Tassopulos served as a United States Magistrate from 1971-1994; Presiding Magistrate, 1971-1987; Reappointed, 1979-1987.
EXPERIENCE AND SPECIALTIES
Judge Tassopulos has expertise in the areas of ERISA claims, federal tort claims, fee disputes, wrongful termination, sexual harassment, intellectual property, patent and copyright law, insurance coverage, personal injury and commercial litigation.
She conducts judicial training seminars on trial practices and settlement, discovery and federal procedure.
SPECIAL HONORS AND MEMBERSHIPS
Member of the American Bar Association, Los Angeles County Bar Association, Federal Magistrate Judges Association (Secretary, Treasurer and Director of the Ninth Circuit).

Received the ABA's Flaschner Judicial Award for Outstanding Judge, 1993.
EDUCATION
B.A., Political Science, U.C. Berkeley, 1948
M.A., Political Science, U.C. Berkeley, 1957
L.L.B., Boalt Hall, U.C. Berkeley, 1960