Click here for printer-friendly version.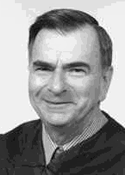 Judge Ross served as Judge of the Superior Court, Los Angeles County, 1981-99; Supervising Judge, Probate Department, 1991-93; Acting Supervising Judge, 1989; Supervising Judge at South Central District, 1985; South Central District, 1982-85; Central Civil Pool and Law and Motion, 1981; Judge, Municipal Court, Inglewood Judicial District, 1979-81; California Court of Appeal, Second Appellate District, March-May, 1983 (Judge Pro Tem).
EXPERIENCE AND SPECIALTIES
In private practice, Judge Ross was a partner at Ross, Pierson & Letteau, maintaining a general civil law practice, with emphasis in business and commercial litigation and probate. He was a Certified Specialist in Tax Law by the California Board of Legal Specialization, 1960-79.
Since 1999, following 21 years on the bench, Judge Ross is extremely active as an Arbitrator, Mediator and Private Judge. He presides over a wide variety of disputes, including probate, real estate, professional malpractice, employment/labor law, insurance coverage and bad faith, general civil litigation and all types of contract disputes.
PUBLISHED OPINIONS
In re Marriage of Hopkins (1983) 142 Cal. App. 3d 350
Ellis v. Roshei Corp. (1983)143 Cal. App. 3d 642 (
PUBLICATIONS
"Sanctions under 128.5," L.A. County Bar Journal, June 1986
"Condominiums and Preemptive Options: The Right of First Refusal," 18 Hastings Law Journal, 1967
"Condominiums in California," 36 USC Law Review, 1963
"Liability of an Insurer for Failure to Settle," 6 UCLA Law Review
EDUCATION
L.L.M., University of Southern California, 1963
J.D., UCLA; Law Review Editorial Board, 1959
B.A., with honors, Economics, Univ. of California, Davis, 1954