Click here for printer-friendly version.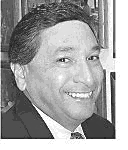 HON. VICTOR E. RAMIREZ (Ret.)
Judge Ramirez served as Judge, Superior Court of San Diego, 1998-2003; Presiding Judge, Municipal Court, North County Judicial District, San Diego, 1985 and 1989; Judge, Municipal Court, North County Judicial District, San Diego, 1979-1998.
EXPERIENCE AND SPECIALTIES
In private practice, Judge Ramirez handled a variety of civil litigation matters, from 1973-1979, as well as starting a banking venture. After a distinguished 24 year career as judge of the Superior and Municipal Court in North County, Judge Ramirez is extremely active as an Arbitrator, Mediator and Private Judge, specializing in business and contractual matters, personal injury, employment law, real estate, professional malpractice, fee disputes, banking and finance.
PROFESSIONAL AFFILIATIONS
Public Advocacy Lawyer (part time), 2003-present;

Member, Judicial Council, Advisory Committee on Court Facilities, 1989-1991;

Instructor, California Judicial Education Research (CJER), "Selected Civil Matters and Pretrial Settlements," 1983-1984, 1989 and 1991;

Adjunct Professor, Business Law, Palomar Jr. College, 1973-1976;

Former Founder and Organizing Chairman of Hidden Valley National Bank, Escondido, CA;

Advisory Committee Member, San Diego School of Law, 1973-1976;

Psychologist, Grossmont Union High School District, 1969-1973.
SPECIAL HONORS AND MEMBERSHIPS
Trial Judge of the Year, San Diego Consumer Lawyers Association, 1997 and 1999;

Best Municipal Court Trial Judge Award, 1986; Trial Judge of the Year 1985, San Diego Trial Lawyers Association;

Most Distinguished Alumni Jurist Award, University of San Diego School of Law, 1982;

Highest rated Municipal Court Judge, North San Diego County, San Diego Union Judicial Poll, 1982 and 1996.
EDUCATION
J.D., University of San Diego School of Law, 1973
M.A., Pepperdine University, 1969
B.A., Pepperdine University, 1967
SPECIALTIES
Business, Commercial and Contractual matters;
Personal Injury;
Employment law;
Real Estate;
Professional Malpractice;
Fee Disputes; and
Banking and Finance