Click here for printer-friendly version.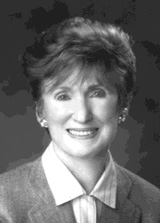 HON. SARA KLEBAN RADIN (Ret.)
Judge Radin served as Judge of the Los Angeles Superior Court, Central and West Districts, from 1978-1993. Served Pro Tem on the Court of Appeal.
EXPERIENCE AND SPECIALTIES
Judge Radin presided over a variety of civil cases, with extensive experience in wrongful termination, probate, personal injury, medical and legal malpractice, product liability, family law, real estate, contracts, corporate, partnerships, and other business disputes. Prior to the bench, Judge Radin was in private practice for more than twenty years, specializing in family law and civil disputes.
Judge Radin is active as a neutral for mediations, arbitrations, settlement conferences, and discovery disputes. Judge Radin was appointed Special Master for a discipline hearing of a sitting judge before the Commission of Judicial Performance. Judge Radin completed certification programs in mediation at the National Judicial College, and at the Straus Institute for Dispute Resolution at Pepperdine University School of Law.
SPECIAL HONORS AND MEMBERSHIPS
Served on various committees of the California Judges Association and the Los Angeles Superior Court, including Settlement and Protracted Litigation, Ethics, Continuing Judicial Studies Program Planning, and Bench and Bar

Appointed by the California Supreme Court to the Commission of Judicial Performance, 1985

Appointed to Commission of Gender Bias in the Courts by the Chief Justice of the California Supreme Court

Past Chair of the Retired Judges Committee of the California Judges Association

Former Faculty Member of the National Judicial College and the California Judges College

Lecturer: California State Bar meetings, Rutter Group, CEB, and various bar associations, law schools and community organizations

Former President: Santa Monica Bar Association

Charter Member: The California Women Lawyers Association

Member: National Society of Professionals in Dispute Resolution
EDUCATION
J.D., Southwestern University School of Law
B.A., University of California, Los Angeles