Click here for printer-friendly version.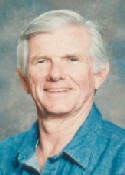 HON. MACK LOVETT (Ret.)
Judge Lovett served as Judge of the San Diego Superior Court, 1974-1995. Since retiring in 1995, he served as an assigned judge for the San Diego Superior Court, and serves as an Arbitrator, Mediator and Private Judge for all types of civil matters.
Served in Law and Motion Department of San Diego Superior Court as Presiding Judge handling all types of civil matters, 1984-1987.
Member of Judges Committee that established the Independent Calendar Program for the San Diego Superior Court, 1989-1990.
Assigned to Special Department conducting Mediations and Settlement Conferences, 1988.
Division Counsel for Convair, a division of General Dynamics, 1962-1967.
Deputy District Attorney, San Diego District Attorney's Office, 1956-1962.
EXPERIENCE AND SPECIALTIES
In private practice, Judge Lovett specialized in business law, real estate matters, probate cases and estate planning. He also represented homeowners associations for condominiums, local title companies, handled jury trials and numerous court trials, 1967-1974.
As a Judge, he presided over all types of civil matters, including personal injury, professional and medical malpractice, fee disputes, construction defects, contracts and commercial disputes, insurance coverage and bad faith, and real estate.
PROFESSIONAL MEMBERSHIPS AND ACTIVITIES
Member of the California Judges Association
Retired from Rotary Club
Served on various committees for California Judges Association
EDUCATION
J.D., Stanford Law School, 1955
ADR SPECIALTIES
Business/Commercial
Construction Defect
Employment/Wrongful Termination
Homeowner's Associations
Insurance Coverage/Bad Faith
Medical Malpractice
Personal Injury
Products Liability
Probate/Trust and Estate
Professional Malpractice/Fee Disputes
Real Property
Special Masters/Discovery Referee