Click here for printer-friendly version.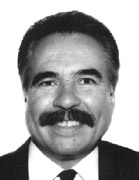 HON. JAIME R. CORRAL (Ret.)
Judge, Los Angeles County Superior Court, 1983-1999; Supervising Judge of the Northeast of the Juvenile Center and Eastlake Judge from 1988-1991, and from 1993-July 1996; Supervising Judge of the Los Padrinos Juvenile Court from 1983-1987; Presiding Judge of the Juvenile Court, 1991 and 1992. Judge, Municipal Court, Rio Hondo Municipal District, Los Angeles County, 1979-1983.
EXPERIENCE AND SPECIALTIES
Judge Corral has served as a dispute resolution neutral since October 1999, handling numerous mediations, arbitrations and settlement conferences, specializing in personal injury, medical malpractice, legal malpractice, fee disputes, products liability, premises liability, business and commercial matters and employment disputes.
In private practice, he was a partner in the Los Angeles law firm of Kataoka, Moret & Corral, specializing in civil law matters, 1973-1979.
LANGUAGES
Fluent in Spanish.
Japanese, basic conversational.
EDUCATION
J.D., 1970, Southwestern University Law School
Prelaw, 1964-1965, University of California, Los Angeles
Asian Languages, 1962-1964, Los Angeles City College